Adrenaline shock billed as the only Obstacle course race that has the Krypton Factor assault course to negotiate
Krypton factor brings back memories for me, sat in from of the TV watching 4 people battle it out with Logic, general knowledge and of course the Assault course, Zip line, big cargo net, etc etc, So when I saw that it involved all of that I thought it was time to live that boy hood dream
I choose to do the 5K course with youngest Son - Harley, and at less than £20 Each it felt great value,
The week before I was sending Harley Youtube links for Krypton factor at every opportunity and telling him how good it was, On the hour drive from our Home in South Yorkshire to Richmond the excitement in Harley was building, and in me too
Finding the place was simple the SAT NAV took us right to the gate and helpful parking staff directed us to where we could park Free of Charge, Registration was also a Simple affair, sign our waiver get our number and we are ready to run, but first we had to attend the safety brief
Check out our video of the day
We all gathered around the guy with the microphone and opened our ears to listen, but I'm not sure what we was listening too as is just sounded gibberish, He mumbled and stumbled through with the odd work making it out like feet together, bend, jump and that was about it, But never mind having done almost 200 races I guess one safety brief is pretty much the same as another to me but for all the newbies out there I think it could have been done better
It was then over to the start line for our warm up, this was done by a very enthusiastic coach, he got everyone jumping, shouting and rolling on the floor before shouting and we are off and set off running, leading the field out there,
So me and Harley set off at the back of the field as this is where we run know, enjoying the company of the fun runners and not so fit's, this is where all the fun is, first up was a little tyre run, quickly followed by a nice size hay bale stack before we headed into the woods.
Having spoke to a few who had done Adrenaline shock before I knew it was a 4k run followed by the krypton factor assault course, but what they hadn't told me was how enjoyable that run would be, yes a few bits running down farm paths where a little boring but running through the woods, down deep muddy trails, up grassy hills and back down again was excellent, and the 4k was broken up by the odd obstacle, a few wet ditches, a muddy crawl, several hurdle style obstacles and good 10ft wall.
But all me and Harley talked about was the Krypton factor assault course and they teased us by sending us right past it several times and seeing the huge zip line tower was making us excited
At the 4k mark we entered the assault course, But wait - this isn't what I remember from TV, first there was no Zip line to go down, then the obstacles where small, yes there was a fairly big cargo net climb ( around 12ft ) but I'm sure the one on TV was double that size, the water was ankle deep, no chest deep stuff to take the breath away, yes we negotiated 15 or obstacles, but nothing that resembled the Krypton factor
They did have the BIG K's at the finish line though
We received a good bag at the end, with a bottle of water and a Titan bar, with our t-shirt and medal in there too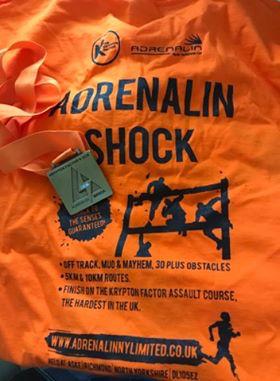 Both Myself and Harley couldn't contain our disappointment as we trudged to our car, we both felt disheartened, we entered to do the Krypton factor assault course that we had seen and the only resemblance we had was that it has the BIG K's at the finish line
So my final thoughts on the event
As a Stand alone event it is really good value for money £19 for 5k with around 25 obstacles is in my opinion very good value (and one yes i would do again), and its aimed at the bootcamp, fun running crowd which it will attract but if your like me and remember the old Krypton factor then please don't sign up for it on that basis as you may feel a tinge of disappointment.
REVIEW UPDATE BY EDITOR
I have spoken with the organisers and it has been Kindly pointed out that Krypton Factor used several different courses throughout the UK during its time, Adrenaline Rush is the most current Krypton factor course check link here
We have also been asked to mention that the race is "a not for profit race", entirely come about to raise monies and awareness for the Army Benevolent Fund,