My road to recovery by James Hall
After competing in the journeyman wave at the world championships last year and only narrowly missing out on qualifying for age group, I decided that 2019 was going to be my year for OCR. Having competed for nearly 17 years on a world level in martial arts, I decided to start OCR to fill the missing void of competition after hanging up the gloves in 2017. I had my first taste back at spartan in 2010/11 . I figured the best way for me to get faster was to work on my running as my upper body was at a good level. I would do this by adding intervals, distances and elevation. However, living in the fens which is one of the flattest places in England posed a problem for doing any hill training Also having a young family and teaching 2 exercises classes along with my full-time job as an engineer gave me little spare time thereby putting me at a disadvantage. So, I started waking up at 5am to do some 10k runs on a regular basis and I must admit I found it challenging to get out of bed especially during winter. Also at least one a week I would wake up even earlier at 4.30am to drive to the nearby city of Ely which has the closest thing to a hill for miles. A friend and I decided to increase our running distances in preparation for a trail marathon we had booked, so we ran to a parkrun a few mornings, which was 15 to 18 miles away depending on the venue. My weekly training was a mishmash of 3-4 runs and sparring with friends at kickboxing on any weekend I had free. As well as teaching 2 bootcamp sessions a week.
Fast forward to March and the Cambridge half marathon. This was my first real test to see if all my training was paying off, but to be honest it couldn't have come at a worse time as my mum who is suffering from late stages of Dementia was very ill around this time and I was stressed. I was hoping to knock ten minutes off my previous personal best and get my time down to 1hour 37 mins, but I figured the way I was feeling that I'd be happy with anything. At the beginning of the race I was running well and held on to my pace for dear life. It seemed to go well up until 18-19k mark with my watch telling me I should finish in 1.36 , I was really happy. However, at this point, I started really struggling and was forced to walk after 19k, even though I had run 18 miles a few weeks earlier without any problems. I look back now and I think all the stress with my mum had got to me and affected my body without me realising. In the end I finished the Cambridgehalf in 1hr 45 and was at that point I was happy to have finished. The following day I went for a recovery run and my Achilles was hurting a little, this was something I have never felt before, so I decided to have the next 2 weeks off to recover and let it heal. After resting it I thought it would be ok to go to my local park run which I enjoy doing every weekend. After this I decided it would be good to attend kickboxing class As I didn't see my friends from the club in a while and it would be good to get some extra training. Looking in hindsight now I can see that this was a big mistake, my kickboxing class is pretty hardcore and involves over an hour and a half of intense circuts and sparring, it was too much to do in one day with a bad Achilles.
Halfway through the sparing I felt a tear down the back of my leg and my left arch went flat . It was so painful, nothing that I've experienced in the last 20 years of sport. The following day I went to A&E to get it checked out. They told me it would probably heal by itself and they gave me a stepped boot to wear for 4 weeks but I didn't receive any advice about what exercises to do for it .

I wasn't even given any crutches and walking without them in the boot was impossible. I had to go buy them myself. I felt I pushedout of the door. I work full time as an engineer which is a manual job and I also teach a fitness classes in the evenings therefore I was worried about how I could maintain these and how it would affect me financially.
Luckily thanks to the support I got from people I made it through the 4 weeks I had the cast on without missing any work or my fitness classes. I have an amazing colleague and friend who-helped me with setting up the classes and also by giving me a lift to work each morning. Luckily, I was given mainly desk work in job which also helped. I was so happy when I was finally able to take the cast off i knew I wouldn't be completely back to myself,but I didn't know how bad I would be. I couldn't put any weight on it and it was painful.
I couldn't even fit in to my size 11 shoes as my foot was so swollen. I thought another trip to the docs was in order. He just referred me to the NHS physio without giving me any advice while I waited to be seen. It took 3 weeks just to speak to a specialist on the phone, not for an appointment, only for a conversation on the phone! It was getting a little crazy. All I wanted to do was walk again and I felt I wasn't getting any help or advice from the NHS. I was getting really depressed not being able to do the simplest of things, I have a two-year-old daughter and I wasn't able to look after her properly which didn't give my girlfriend a break. I had to get my dad to drive me to work in the mornings as I couldn't drive. I decided to go private in the hope this would get me out of the depressed state I was getting in.
I paid to have a scan which said I had a minor tear and it would heal with time. I did a lot of research and went to a local chiropractor and I started having shock wave treatment and doing some exercises at home to help the recovery process. Withinweeks I was walking around again.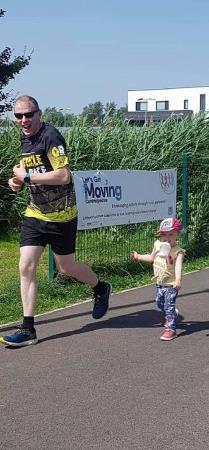 It's now 6 weeks since I have had the boot off and i have been gradually increasing the intensity and distance of my running. I ran 4k last week and I hope to do a slow-paced parkrun this weekend. This week I managed a slow paced pace run which I was really happy with. I've heard some horror stories about Achilles injuries from other people sine having my injury and I feel quite lucky as some have obtained permanent damage so I'm definitely going to be sensible with my training going forward. I won't be pushing myself with lots of training in one day and especially if I feel any slight pain. This may have been ok in my twenties, but I figure I'm pushing my luck now as I'm nearly hitting 40!

I started swimming lessons when I got the boot off , I figured it would help recover and to be honest has benefited me hugely with my mental health wellness . I also started my level 3 pt course when I got injured which kept me busy too while I was unable to do anything physical. This course is something I wanted to do eventually but never had the time to do before. I have definitely learned a few lessons from all of this, There is always light at the end of the tunnel, You might have to find the torch yourself to get there however!! Injuries can seriously affect your life and stop you from doing the things you love but theres always something else you can do. Maybe something you have been putting off for a while and you just have to keep thinking that it's not going to last forever. This injury has cost me about £1500 in lost races and treatment, but it could have been a lot worse if I had to miss work too so therefore I'm lucky. I'm looking forward to getting back to competing in obstacles races and doing what i love . This time just a bit more sensibly.
Editors note
James is running at Mud7 so if you see him, hive him a shout out
look forward to hearing more from James Soon