Here at OCR UK, we know how hectic OCR races can be. When you turn up, the location is often filled with participants, spectators... and a lot of mud! That is why we know just how important it is to have somewhere waterproof and durable to store your kit. The last thing you want after finishing the race is for your 'dry' clothes to be caked in mud and just as wet as your racing gear.
The answer? Kitbrix. So what is Kitbrix and what makes it so perfect for OCR?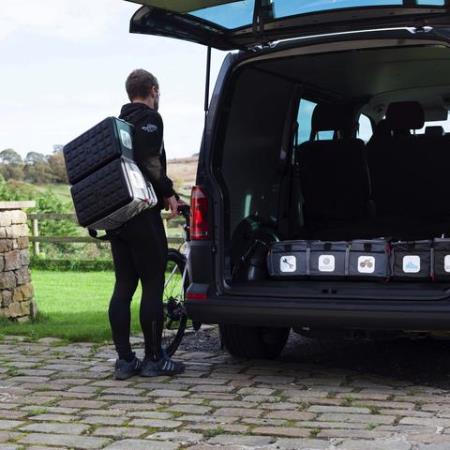 The Kitbrix bag is the ultimate OCR training and race day companion. The unique design of the Kitbrix bag is built with OCR athletes in mind so it can take you from the evening gym class to the muddy fields hosting your race. So what exactly makes the Kitbrix so suitable?
Hard shell base: The Kitbrix bag is equipped with a hard, sturdy and waterproof base. This allows for your bag to be a stand-alone storage case for your kit wherever you may end up. The durable base is also not shy of a bit of mud. You can put your Kitbrix on the wet muddy fields knowing your kit is staying dry and clean. At the end of the day, simply hose down your bag ready for the next one.
Zip together compartments: We know that during OCR competitions and on training days you have a lot of kit, some of which will be extremely muddy and wet. In addition to this you probably have other belongings such as phone, keys and wallet that need to be kept separate and dry. The beauty of Kitbrix is that multiple waterproof bags can be zipped together to house your kit independently of each other, whilst still being able to carry them as one. This means you can get as mucky as you like, knowing your post-race confies are staying warm and dry.
Customisable straps: To make the Kitbrix even more adaptable, you can turn your bag from a shoulder strap into an easy to carry rucksack, making it easy to transport over rough terrain.
Personalised labels: With many people at your event also likely to have Kitbrix, you can feel confident that you will be able to identify your bag with personalised labels. You can either display your team details, your checklist or your name and contact information.
Durable: OCR events aren't for the faint hearted, or delicate bags. The Kitbrix will see you through years of training and for many OCR seasons to come!
Why not also take a read of Kitbrix's blog? They have helpful articles, reviews and blogs for you to browse.