I am now officially over 50, That means that I am now allowed to say "turn the heating up" without getting funny looks
Yes I am sure that the moment I reached that age by body went "hey its now time to feel the cold".
So last week the cold spell hit us and it really messed with my core temp while running, so much so that I found myself running in 3 layers and a windproof jacket, it was like watching Michelin man run
Hence the new purchases
Atak Base layer
First off an Atak thermal base layer £27.50 from http://www.totalsportsandsupplements.co.uk and an insulated hybrid jacket reduced in the sale to £30 from www.mudandblood.com
The Atak base layer or compression top as they say is designed to regulate body temp in both cold and warm conditions, well my opinion is this is not right, in warm conditions I felt like I was running in
the Sarah desert, My arms felt like I was cooking on the barbeque
However I went out early one morning in 0 degrees with a wind chill of -3 according to Alexa and I had a t shirt and a Truesapien wind jacket over the top of this compression top and I it was perfect, it
regulated by body temp perfect.
I even went for a quick cold water dip in the local reservoir and it got soaked but my core, chest and arms stayed nice and warm – I couldn't say the same for the toes or fingers
I'm not sure the fit will be to everyone's liking as it feels very tight when you initially put it on and I felt like a 10 tonne vice was gripping me, but after 5 -10 mins it starts to feel ok and then when running I
didn't really notice until I came to take it off and it stuck to me like a limpet to a ships hull
One thing I did like about this is its smell, or should I say lack of it,
Every base layer I have ever worn always smells like ruby players jockstrap when I take it off!
But this one it didn't – it must have built in odour repellent or something, 4 runs totalling over 40 miles before it started to get a little smell,
If you like base layers and you looking for one for the cold weather then you need to take a look at these as they are great
PS they also do tights for men but I'm a Yorkshire man I don't do tights unless I'm robbing a bank!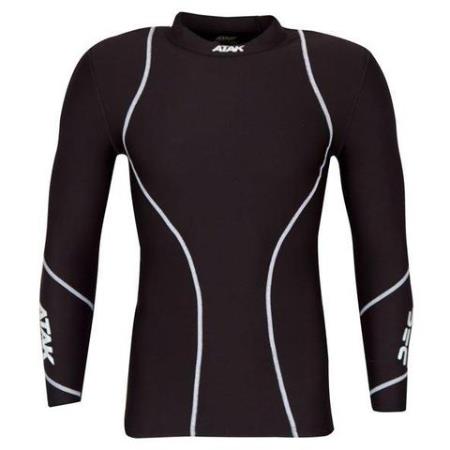 Mud and Blood Thermal Jacket
Then we have the Mud and Blood thermal Hybrid, its an Hybrid because the body is thermal and the arms are made of a thin soft stretchable fabric
Now this jacket has an athletic fit which in Yorkshire terms it means when you wear it you best be breathing in all the time, so buyer beware if like me you have a rounded tummy go up a size
Performance wise I really like it, the insulated body does keep your core warm and the sleeves although thin they trap that warm air and let you stay warm, however I did run it in mild weather and I quickly found my body temp rising and was almost going to take it off, but a quick pull on the zip at the front to let some cold air in and it was fine again
One thing I do really like about this is the thumb holes on the sleeves and the fact that if you forget your gloves the sleeves are stretchy enough to cover the hands like little mittens
It also packs away very small and is very light weight
One thing it misses though, A hood!
The jacket has a water repellent coating to keep you dry in a small shower, but what about the head, it is desperate for a packable hood in the colour – big design fault in my opinion,

Also because it packs up quite small a little bag to keep it in or a zip on the inside pocket after you packed it away in side it would also be a nice touch
The price is usually £60 and is it worth that Not in my opinion =- f it had the hood and packable pocket it would be close to that value!
however watch the sales mud and blood have and if you can get it for the £30 I paid it is worth every penny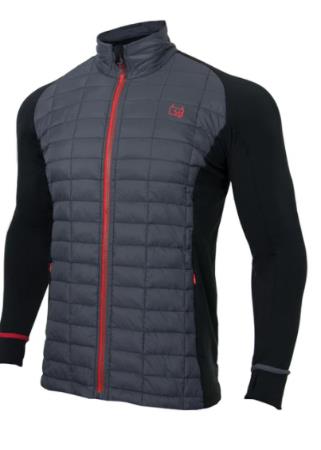 Please note these are my opinions and Myself or UKOCR have received no numeration from any company mentioned to speak about their goods
Alan - Editor
If you want us to test something drop us an email at [email protected] and we will see what we can do