I have avoided doing a Tough Mudder for almost 6 years. But going to Europe's Toughest Mudder last year to film and do some media, it wet my appetite to get back out on a Tough Mudder course
So here I was 7am Saturday 23rd April 2022 in a windy field at Belvoir castle, about to go through registration for the first ever Tough Mudder Infinity Race
I have been training for this since January this year, gradually increasing my milage and time on feet and I set myself a Target of 40km
My Game plan was do the Mandatory 15km course first and then jump on the 5k and do 5 x 5k loops to get my 40K badge
The race was due to start at 7:30 but due to technical issues at registration Tough Mudder put the race back 15mins, after a quick warm up and reciting the pledge we was off at 7:45
The first obstacle was "Kiss of Mud" – but I'm going to call it "Kiss of Rock" there was no water on the mud just rocks and stones and immediately I felt the blood trickling down my knees from the little cuts
Next up was Pitfall, now if you not done pitfall before it's a muddy hole but it had smaller deeper holes in it just to catch you out, and it did! Several times I found myself dropping an extra 2 feet and almost face planting
This was followed by Hero walls and then my Fav "Blockness"
Just after "Blockness" the course split, and It was at this point for the rest of the laps that I was planning to go left for 5k, but instead I had to go right on the first lap and up into the hills to take on obstacles like "Pyramid Scheme" "Funky Monkey""Well Swung" Crybaby" and "Electric Eel", it was here at Electric Eel that I was quickly reminded of one of the reasons I had avoided Tough Mudder for a While, Being "Big Boned" I can not get low enough and so I got zapped, not once, not twice, but 10 times and everyone on the right shoulder, however there was an even funnier part to this, I was running with the Tiny Wil Chung, who doesn't even have to crawl to get
under the electric wires, but because we was in close proximity and in water, every time I got shocked – so did he!!
Coming back out of the wilderness we came back to the course Split and joined the course again just in time to go up "Devils beard", what an energy zapping obstacle, 5 tight cargo nets on a hill,
What followed next was "Birth Canal", then "Everest" and quickly followed by " Arctic Enema". On this first lap "arctic enema " was like it was of old, Full of Ice, Unfortunately none of my other laps was like this.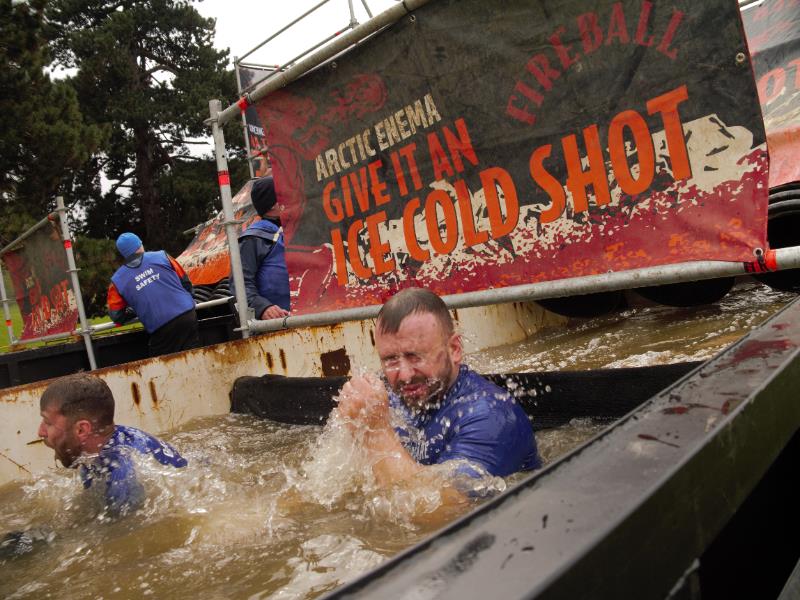 After "arctic Enema" the course split again – turning right and up the hill to "Augustas Gloop" for the 15k, and whilst I mention "Augustas Gloop" you had to do a bit of a muscle up to get on the ladder, Cruel, Cruel Tough Mudder . The course then returned back down the hill to join the 5k loop again just before the Mud ditches that produce some great pictures of Tough Mudder. With 1km left to go the last 3 obstacles came thick and fast "Tipping point""Mudderhorn""Electro Shock Therapy"
With the first lap down in 1 hour 59 mins I was feeling good, I quickly downed some Voom Hydration and a Voom Pocket Rocket before setting off for my 5k lap I also decided to change shoes here and test the Scott Supertrac RC2 (Review coming Soon)
I was glad to see on "Kiss of Rock" they had put some water down and it was a little muddier, but still those rocks cut deep, "hero walls" became difficult as the Mud from pitfall was starting to cover the top of the walls and so a hand was needed to get over, the rest of the lap went with ease with no surprises and even though it took me 44 mins to do the 5k lap it felt faster,
It was at this point that I was starting to feel the cold though, with 5 water obstacles on the 5k course I wasn't getting dry, I was wearing neoprene shorts but my upper body was cooling fast due to the wind
Non the less, after I had a bit more nutrition and a salt tablet I set off again on another 5km, This time just after "Arctic Enema" the doubts started to creep in, I got cramp climbing out and so had to walk a little and this my core temp dropped drastically, I had to dig a little deep and start to plod on,
Coming into transition and covered 25km I was still going to stick to my plan and do another 3 x 5KM so once again a little bit of nutrition and out I was, however the first 2km didn't go to plan, "kiss of Rock" saw me cut my knees even more, I fell heavy in "Pit Fall" I struggled and bruised my chest on "Hero Walls" and I spent much longer than required in the water at "Blockness" due to helping a lot of non-experienced runners move it and get
them over.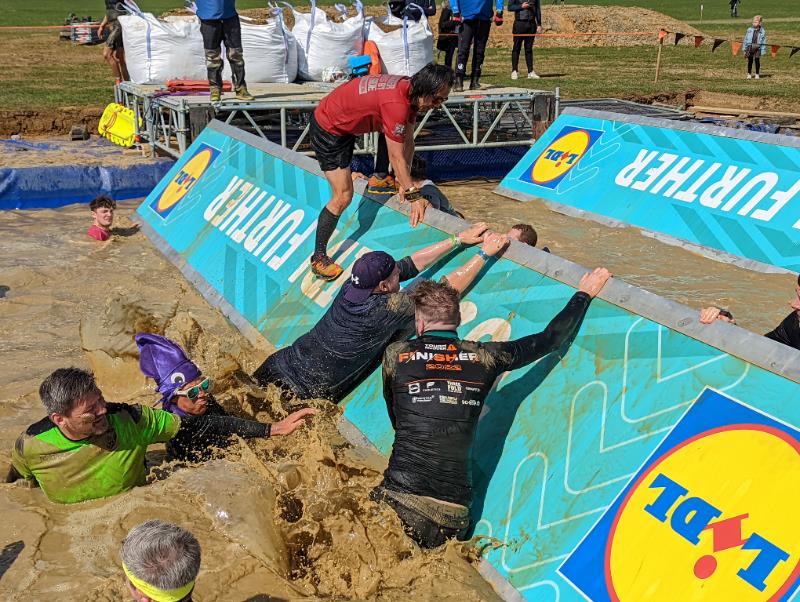 I got out of the water at blackness and looked at the 5k /15k split and I knew if I took the 5k split I may not be strong enough to go back out for another lap, so I chose the 15k loop
I hadn't taken on enough fluids of nutrition for a 15km lap but I knew I only had to do 8k and there was a water / food station just after "Cry baby"
It was taking this turn that also shocked me on how a course can change too, "Funky Monkey " which I did ok the first time was much slippier and with tired muscles much harder and I almost made a proper hash of it, I had
to take penalty loops at Electric Eel due to queues and also at "Well Swung" because I missed the bell, without going into too much detail though I continued to push at the best I could, but the last 5k I could not run anymore,
my Hamstring was tight, my body was cold and I could not wait for that finish line
7 hours and 12 mins after I started I crossed the finish line and got my 40k done
There are a lot of lessons for me to learn from this before the next Infinity in Scotland on 2nd July
Want to hear more then join the Mens and ladies winners Sean merryweather, Linda Johnson along with Charlie Boher and Wil Chung on our Podcast UKOCR (pod.link)
Check out our video of the weekend