For several years I have looked at this event and thought one day! One day! Well August 13th 2022 that day came,

Every year since it started Steven Fell invited me to this but it just kept clashing with Overload, But 2022 they brought it forward to the middle of August so this is how on Friday I found myself in a red hot car making a 5 hour drive to the lovely lake district towing my Caravan
I booked a bundle offer for me, Mrs Moore and my mother in law, with the plan to have a nice weekend in the lakes, this included a pitch for my Caravan from Friday till Monday, Tickets for all 3 of us to view
the grounds and the house of Muncaster Castle and to attend the Caleih on Saturday night with food included, and of course my Run Ticket, all this came in at £130 – not a bad offer I thought
Arriving Friday night the start of the weekend was already underway with a Pizza night, A freshly made 12 inch Pizza for Only £8 and local bottled Beers from £4, I had to indulge and chat to a few runners attending, one thing started to stand out – 80% of these people where in their late 20's, non of the middle aged crew reliving their youth – Just me!
After my 5 hour drive 1 beer and a shared Pizza and it was time to get some sleep and be fresh for Race day
Saturday I woke up and headed down to registration after my morning coffee, it was advertised to open at 9:30 according to the itinery, but like many things in the lake district – it opened when it opened, this happened to be closer to 10:30. This is one area where RTT can improve upon, every person was asked questions that could have been completed online at registration time, Emergency contact
details, home address, telephone number, any illness, waist size, foot size – well actually the last 2 I made up, but it meant for a very long process of checking in, I would guess around 10 mins and 15 seconds but I was not timing it Honest! The smiles and friendliness of the ladies on check made it feel half that time though
With the Race starting at 3:00 in the afternoon, there was a little bit of time to kill, so because our tickets included a tour of Muncaster castle – which is according to the guide, the most haunted castle in the UK, we got to see some of it and to also watch a falconry display which was very impressive.
These done and a bite to eat in between covered the day nice, but it was finally race time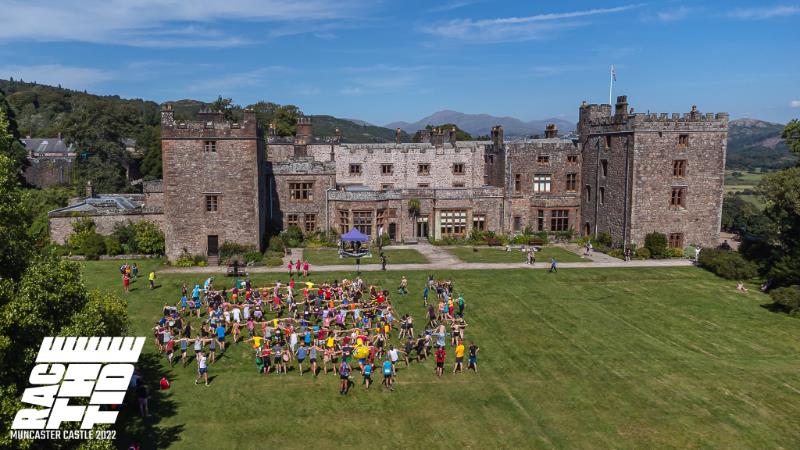 Arriving at the start line for the warm up at 12:45 I was disappointed a little find that they had delayed the start of the race by 30 mins but still the warm up started at 2:45 this was going to be a very long warm up from the Mokey Crew (A local online fitness workout team) who where super energetic and also had a bit of fun with the runners making them do bird noises, Finally it was race time – this was like the old days of tough mudder too, you warmed up in one section and then walked 500m to the start of the race, I was shattered before we even started
The start was Fun, a very steep hill with some young fit firemen spaying water at us as we tried to get up the hill, The race itself is best described as a little Rustic. Straight off it had the Obligatory Hay bales, some Crawls, an 8ft wall with an amazing view over the estuary from them and some great single track technical running, but coming to Race the Tide you want that water section and after 3km'ish
it came.First up a waist deep wade, then a traverse over inflatables followed by a swim of 30 m and finally the leap of faith from 3 m above the water, I have to say I loved it, but it left me wanting more, it also had a bottle neck here, with around a 10 min wait for the leap of faith, not a concern in the 32 degree heat though
The water section was followed by some mud running and then a technical stream before started to climb, and a climb it was over 300 ft to the peak of Muncaster where ewe was greeted by a Tarn – a muddy swap, and yes you got it we had to go through it, then a balance beam over it, before 7 total dunks under logs in it, I have never been in such filthy water but I loved it
A fast decent back down brought us to the final mile and half, which had a dark tunnel to crawl through, a rope bridge to cross a ladder up the castle ramparts, a downhill straw bale section and the final obstacle, a slow slide into water where the fit firemen thought it would be fun to try and de-cloth people with their hosepipes, I came out with my shorts falling down and my shirt around my shoulder
At the finish line our numbers where checked, a nice bespoke wooden medal placed around our necks and flap jack and voom bars for recovery, All in all a fun time was had.
After a hot shower it was time to get changed for the evenings caleih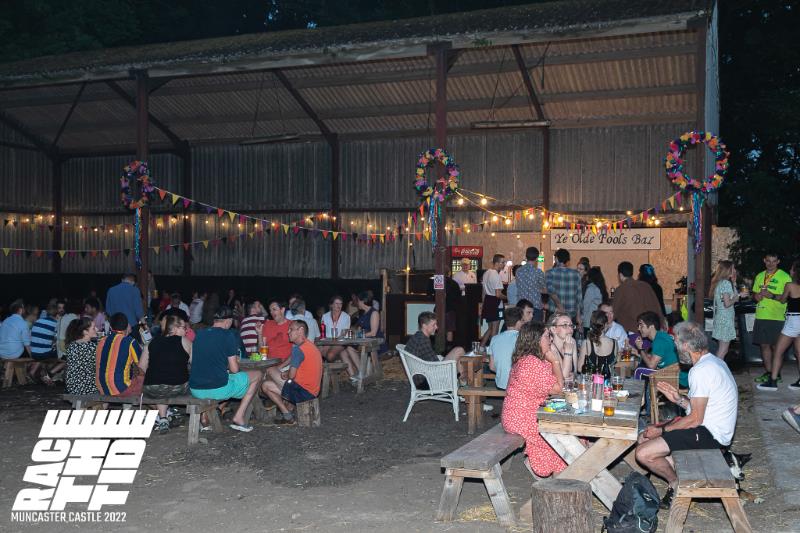 This started at 7pm in what can only be described a s great venue, they had taken what is basically a tractor storage barn, dropped Tons of clean shavings down on the floor and placed a hundred or so straw bales around with coffee tables to sit at, there was a fully stocked Tom Fools Bar, a free hog roast, the Pizza man was back doing Pizza and Nachos and even an ice cream van doing the most delicious ice cream every, around 9pm the dancing started, and I have never seen so many people just doing line dancing and Scottish Jigs
So what did I think of it all
This event is like an OCR community event but instead of OCR its Euan's ( The Race organiser) University Buddies and their buddies and their buddies, hence the younger element, But don't let that put you off as everyone is welcoming and friendly, I loved the Party afterwards and their was even things going off on the Sunday – Highland games ( but had the trip home to make)
This is an ideal fun run course and a great weekend of fun, yes it could be better but couldn't everyone we do, what I personally would like to see more obstacle and crossing around the water area, it is a unique selling point for Race the Tide but it was over so quick, I wanted a slide, more jumping, more crossing, maybe a float down river on an inflatable then run back to the point to drop it off again to the next runner, Anything to make that water section more and more unique
Will I return – Yes I think I will, maybe book a long weekend Friday to Monday and really enjoy all the things they offer,
PS:-just one last request if Race the Tide read this, can we have toilets in the Caravan – touring Caravan section next times – a 10 min walk across a road to the toilets wasn't a plenty experience, however i did love the hot showers
Sign up at www.raceracethetide.com


Pictures courtesy of Carlos Reina Photography