Well I think I have found a shoe that is perfect

The Scott Supertrac RC2
I got these 2 days before Tough mudder midlands and straight out of the box I decided to do a 5k of the Midlands course during my infinity race, however I ended up doing much more
I have to say Tough Mudder is not where they are in their element, these shoes are best found on the hard trails around the peak district, trails where there are rocks, Stones, gravel and compact earth, they thrive on getting grip on rocks that don't offer grip, they laugh at those sharp stony trails, they float and hover over the gravel. Yes they are well and truly alive in the Peaks
Coming in at a super light weight of 270g (for a size 10.5)you will think you have nothing on your feet, I am a Size 13 and yet these weigh less than my furry bunny slippers. But don't let the weight (or lack of it) fool you , they still pack a punch in the cushioning phase, with a 5 mm drop and a aerofoam+ midsole tfor cushioning, this feels just as good as running in my Nike Air Wilde Horse, the stack is just right for absorbing those pesky sharp stones whilst not taking away the feel of running like many heavily cushioned shoes do.
Hey also offer some great support around the ankle and heel whilst the toe box is wide enough for those long runs, allowing your foot to move just enough, there is also a harder material toe guard so you don't hurt your toes if you stub them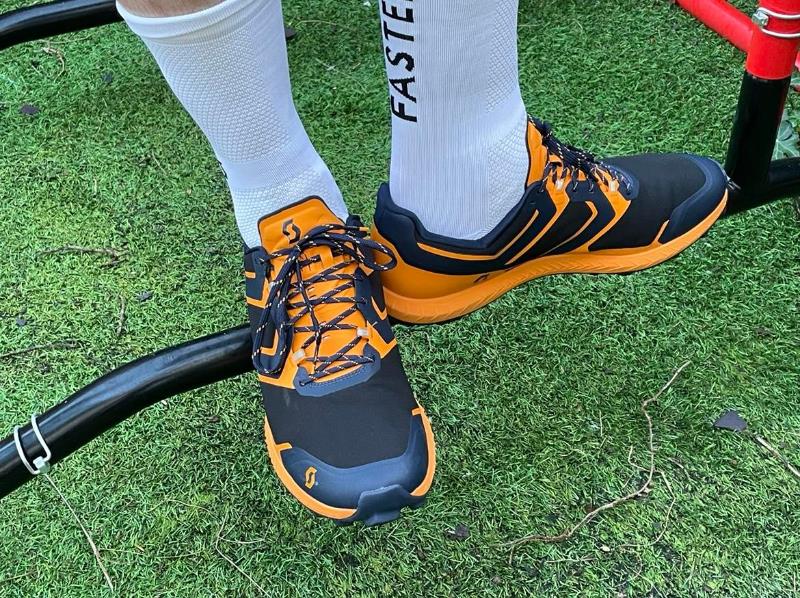 On the sole the grip is around 3 to 4mm lugs shaped like little V's and are great for grip on those slow uphill climbs and fast descents.
Now I have used these for several hundred miles now and on all types of terrain and weather conditions, and they perform well in almost everything, give them a bit of rain and they are ok on all surfaces, give them sand and they will build castles, however give them soaking wet peat or mud and the problem arises, I don't know what causes it but it sticks to the sole and this means the lugs don't do anything, and I felt like john cousins as I descended Bleaklow, the only thing missing was the orchestra playing the 2nd symphony as I piroeted and double twisted my way down
To sum these shoes up, if you are looking for a well cushioned shoe with great support for training runs around the local rails then these are perfect for you,
You won't be disappointed with them no matter what distance you are planning on running
Where do the fit in my shoe collection, Well if you follow me you know I have more running shoes than Pete Blands So how would I best describe these.
If you imagine the comfort and cushioning of the Nike Air wild horse or VJ ultra and then put the support of the Salomon Speedcross and grip of VJ maxx then you have what is better known as the Scott Supertrac RC 2
for more details check them out here
SCOTT Supertrac RC 2 Shoe (scott-sports.com)
oh and did i say they are great for popping out to the pub in