Reebok All- terrain 3.0
Since Christmas I have had a brand new pair of Reebok all-terrain 3.0 staring at me asking when we where going to go running, so on a cold snowey night in the middle of January I decided to take them out with me to give them a run
The first think I noticed was the weight, they look really bulky and heavy ( and if truth be told this was one of the reasons why I had not donned them earlier) but they are surprisingly light. So I slipped them on my feet and went to pull the tongue up but there isn't one! These are the sock like shoes, very similar to my Nike flyknit road shoes (shhhh don't tell anyone I run roads), anyway I like these type of shoes and these are no exception, very snug fit but not hindering movement – I'm going to like running in these
So head torch donned and Runflex compression keeping me warm I set off on my usual trail run – my trail run is ideal for testing shoes as it has almost every type of terrain from hard trail, to muddy fun and even wooden paths, it as ascents, descents and traverses, it has single trails and wide farm tracks and I even incorporate a little dip in the lake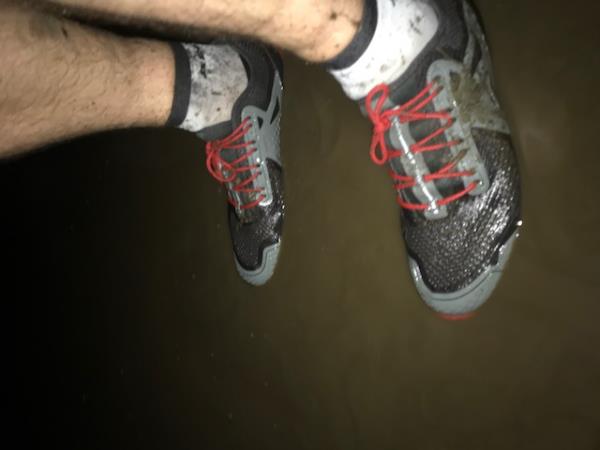 First up is a km of hard packed trail, and with the recent rain this this meant lots of puddles to jump in, the all terrains loved this ground , gripping the stones and letting the water from the puddles drain quickly, I think I am falling in love, next up was the brassy knoll, a nice grassy up hill and down hill section and here the snow had settled, as I crunched my way up and then crunched my way down through the snow my love for these shoes was growing like a rose in manure, The grip was feeling good, the support was good and it felt like I had gloves made from silk on my feet, but its at this point in the run that I had my first issue, climbing over a wooden style I placed my right foot on the step and it shot off the other side faster than some one saying is it like a Tough Mudder when I mention I do OCR.
I picked myself up and gingerly climbed the wooden style and set off up the steep hill section
Now recently the local owners of these woods have been driving their wood cutter up and down this hill and due to the current weather it has become muddy, the snow had not settled her so it was pure 1-2 inch deep mud, and here I am trying to run up it, nut instead I find myself auditioning for a Disney film – namely Bambi and that scene where she is on ice, with arms a flailing and hips a spinning I'm taking a stride forward to slip ½ a stride back, I finished the hill walking up the last section as I just couldn't get any grip to run whatsoever. My love is now fading faster than a winter sunset
Down a long single trail run through the woods, the ground was more compact and the All terrains started to work again, only once or twice I did feel a slip before they gripped again, 4k in now and the shoes still feel comfy and supportive, nothing rubbing, nothing hurting but up next is wooden path section cutting through a waist deep muddy bog, I jump on the wooden path only to find myself on my backside, so off the side I go and wade through the bog, it tries to suck off the shoes but the way they are designed and the lacing system at the side even wet cement wouldn't have budged these babies, what follows next is a nice traverse which hardly any shoes cope with but these where the worst of any I have run in, I'm sure a pair of Dunlop green flash would have faired better, I spent more time on my back than Julia Roberts in pretty woman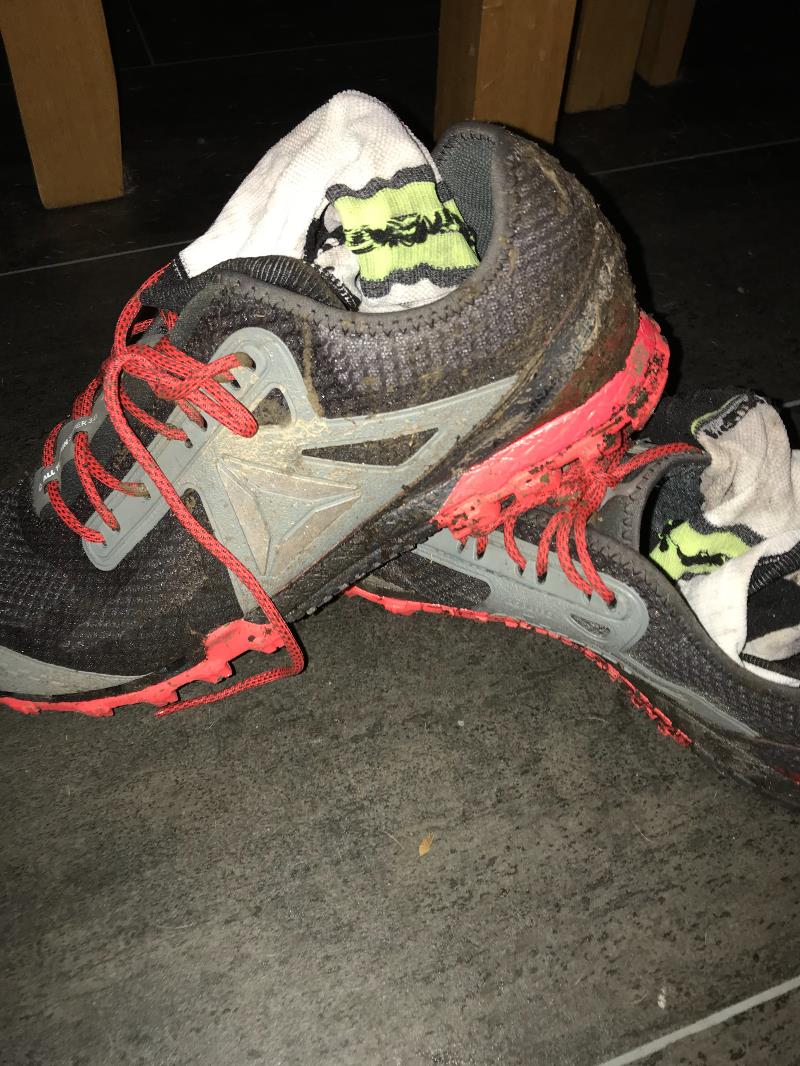 Picking myself up and through the farm and down the farm track and no complaints, back on hard trail and through puddles and the love is returning, into the lake and although its cold the shoes are handling it, out I jump and almost instantly they are emptied of water down a hard trail and over a few concrete bridges before it's the stairway back to the start, this stairway is made of York flag stones and with around 40 steps it's a great test of fitness so I usually attack them with vigour, I start my sprint up the first step and I find myself sliding with my toes smashing into the step in front, (Thank god they have a toe protector on them) once again the grip is non existent, so I decide to walk up the steps and even that is a struggle as the All terrains slip and slide – I should be on dancing on ice at this rate, reaching the top of the steps it's a quick jog back to the van and 7.8km completed.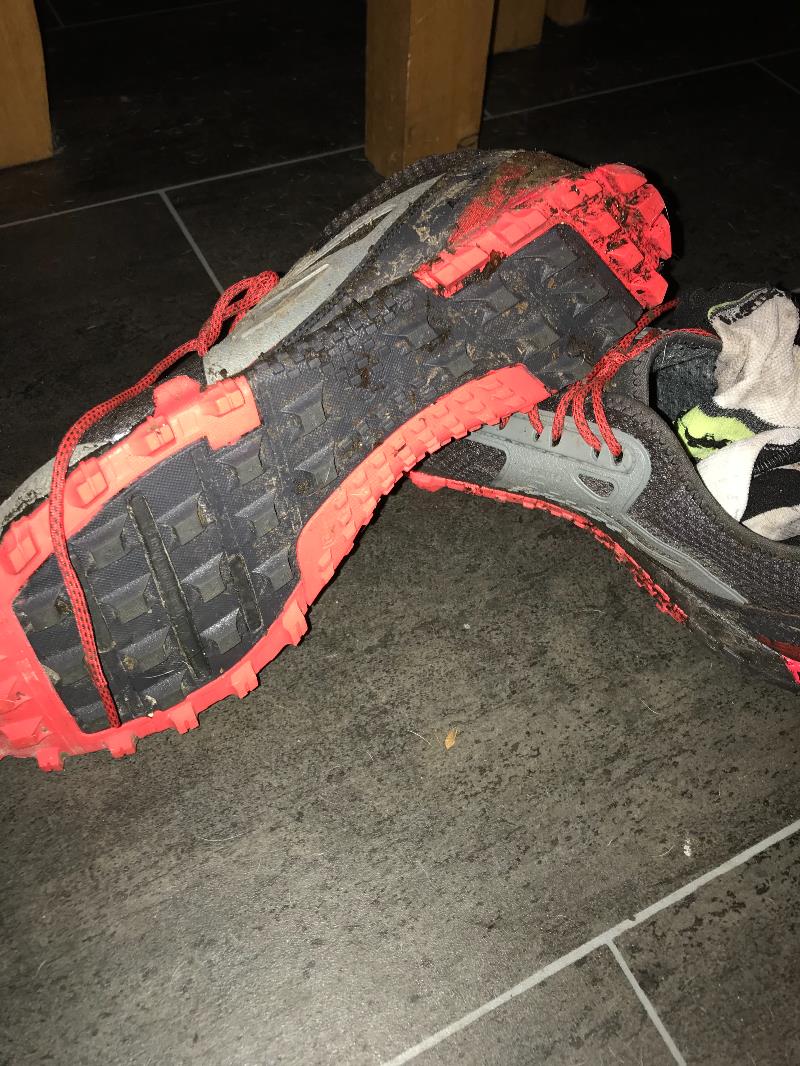 So what's my thoughts
These came straight out of the box and on my feet for almost 8km- No blisters, bruises or rubbing on the feet is a great positive( although I may have bruises on my backside)
The comfort is great, nice and snug but not tight
The support is there holding the foot nice and compact through a range of movements
The drainage is one of the best I have had
The grip – this is a love hate relationship – on hard trails and compact ground, even loose gravel they are perfect, but give them a sight of mud and they run for the hills ( providing its compact)
Great shoes for those OCR's in the summer that lack the muddy section runs but be careful if they make wooden obstacles because if that wood is wet, then these will have you on your backside in a Nano second,
Reebok if you are reading this, I beg you to sort out the grip and you would have probably one of the best OCR shoes on the market