Reaper events have now been going years and each year they bring new and innovative obstacles
The reaper team are getting slick at putting their events on and should be on everyones list of must do races, especially the night ones
heres what members of our group thought of it this year using our new points scoring system
1- Expectations Not Met
2- It is exactly as it says on the Tin
3- Better Than I Thought
4- Best OCR I have done
Cheryl O'sullivan 3 Fantastic as always

Keith Phillips 3 , first time running it , brutal

Phil Shaw 4. Reaper race Great as always . Missing the coffee man after and the burger van was a bit shit.

Deb Farrell 4. Always.

Richard Ward Solid 3, great atmosphere, good course and excellent mix of obstacles.

Fiona Penfold 3 I loved it, great obstacles, great course, great vibe and great marshals

Anna Pearson 3, Fab ! As always
👍🏻
Marshalled during the day and ran at night and it was bloody hard going on that thick sludge but brilliant none the less
Obstacles were a good mix of old and new challenges , in and out of water obstacles
Just cannot credit it enough

Darren Lee Great night race again ,much harder than last time but fantastic fun with my team mates as usual Dave SwiftMichelle Constantinou
Rate 3.5
😊
😊
😊
😊
Fabian Yeo 3 - I always enjoy Reaper. Registration is always a breeze and having parking right next to the event is great. This is my 3rd or 4th year of running Reaper and they have stepped up the obstacles every year. I really enjoyed the new obstacles especially the rigs and the S2H type obstacle to finish. Love Reaper!

Joanna Summers Yeo 3, first time doing it & loved it! Good range of obstacles & very considerate of them to put u thro the lake at the end to clean all the mud off
Denis Corkery 3.5

Adam Carney 3.5 - brilliant event. I ran to qualify for Worlds. Orange bibs were a great idea. I don't need to repeat all positives from above. From qualifier point of view - a couple of testing obstacles - the rings / floating wall / knotted rope combo was by far the hardest obstacle and a decent challenge. Course was very well marked out - as a front runner we only lost our way (very temporarily) once. Loved Devil's Ladder too - surprised myself here! Then really enjoyed hanging about afterwards encouraging others to give it a go.
All in all an excellent event. Ditto the coffee van!

Amelia Willden 3!! probably one of the best we did the kids one due to me being pregnant.... loved it. Well over 5k tracked at nearly 7k. And obstacles and track was different than last year.. will be returbing next year after baby is born for sure which will make it my 4th year in a row x

Trev N Lindsey Nicholls 4 Chris and the team do a great job. Always fantastic marshals, always challenging and fun obstacles but not overly complicated like some. Our favourite event of the year I'm just gutted I cant make the October one.

Gail Jeffreys 4 this is my 5th Reaper and it never fails to disappoint. Was by far the most difficult though

Jonluc Loosemore 4!!!
Reaper was amazing! Plenty of obstacles and it wasn't too hard just perfect to have a great laugh!
All marshals embraced our muddy hugs and muddy hand prints on the face. Will be hard to top that race this year!
Caron Finn 4 - the only OCR I do now as none of the others meet your standards. Your Marshall's must go home feeling like they have had a workout too with the amount of hand ups, legs up etc - amazing all round - see u in October x

Joe Towey I've done Reaper many times, I've been critical on occasion of the lean towards qualifiers and was concerned this race would end all up focused on that and less on the fun. My fears were unfounded it was a blast. I did the day race. First on arrival, free parking, always nice. Grass was a little soft, but I'm sure if there were issues Reaper had the tools to get you out. The sun shone, which made for a great atmosphere and meant the supporters stuck around. This also lead you to believe that perhaps underfoot might not be too testing. Down to the event village, a couple of clothing/kit stands More Sports perhaps and Swimzi, a massage tent, a shelter with some picnic tables and a burger van. (didn't sample it, it looked a bit grim, super cooked burgers waiting to be cooked some more and raw burgers lying out on a surface uncovered so I decided against the £5.50 half pound steak burger). Huge tent as always for registration, vest collection, key drop and merch. Super efficient in there, in and out in a few minutes. On to the course, went in 2nd wave at about 12:10, lots of obstacles were as previously seen, course was technical in the woods seemed like more twists and turns than usual to prevent you getting a good running pace on. New things included the Bog Roll a section of barrels you body surfed across, that was perhaps my favourite bit, a net you hung under, probably my first time completing such an obstacle (I went feet first, was this a rookie mistake?) and i think the climbing wall out of the lake was new too, I enjoyed that. Slide was great though some pump issues, just as i arrived, it was still plenty wet enough. I don't think there was a slide photographer, which is a shame. BUT can't complain, the photographers here do a great a job and all pics are free! Finish with a huge medal, didn't try the last obstacle, as Paul Ocr Cocksedge said on the day, it's the sort of technical shit I don't like, maybe a little disappointed I didn't give it a proper go, but I was pretty ruined. For maybe 7 or 8 kms it was all hard going wet muddy rooty trail, fantastic! The sandbag carry was long and brutal! All in all a fantastic day, great organisation, super marshals who shouted out encouragement all the way around (no Grant Pearson I shouldn't have an orange bib, lol). I can't really think of anything that really disappointed me to be honest, maybe the lack of a bar as I found myself not driving and having only brought one beer! lol. (not really a negative). Well done Chris Reaper Ocr Nicoll, Wolfie Gareth Wolfman Banks Zoe Banks and everyone else involved! It's a 3.5, not BETTER than I expected, but different to what I had expected, definitely more fun,

Editors Note
Once again reaper put a great event on, well done reaper, see you later this year
advertisement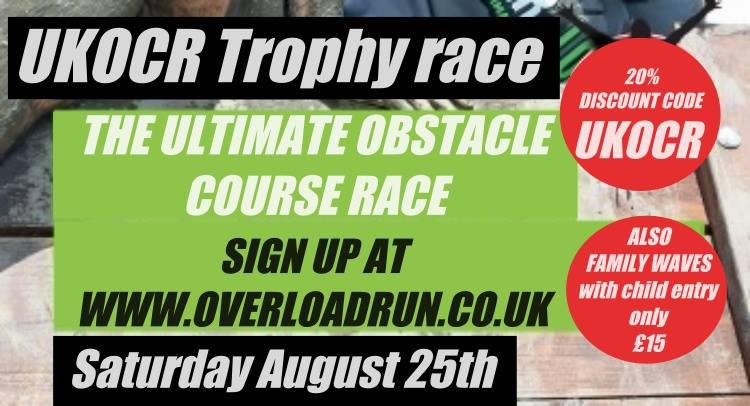 http://www.overloadrun.co.uk