Rough events started life in 2017 and I attended their first event and found it very good for a first event, so I was interested to see what they changed and had it improved
see my comments at the bottom but first lets see what our facebook group members thought of it using our scoring system
1- Expectations Not Met
2- It is exactly as it says on the Tin
3- Better Than I Thought
4- Best OCR I have done

Colin Campbell 3. Not quite the best done but certainly up there and a new favourite
Nicholas Noyes 3. Love the rig section and at the end

Richard Ward A solid 3 from me.

Marc Abbot Sullivan 3 Surprised at how well setup it was. Hopefully more people will attend and find out. Good variety of obstacles and the terrain is good. The best "small event" out there in my opinion.
To move to the next level i'd like to see a differnt medal for distances and some sort of tshirt or medal for doing all 3. Hope this one sticks around and grows.

Claire Jones 3 for me too. Thank you. Loved the route.

David 'Titch' Marshall It's a 4 from me
😀

Tasha McCracken 3, so much fun, great course well organised definitely be returning

Alison Robinson Definitely a 4 for me. A very tough and challenging course

Charlie Haysom I've done 20+ OCRs and I've got to say......
4!
Loved it. It improved even more from last year. Lots of lovely people too and you can tell the effort that went into the obstacles. Huge variety.
💪🏻 Rough skull ranch bit was ACE. Definitely recommend.!!!

Ellie Middleton A 4 from my son and myself. He did it last year and was very impressed. I loved the obstacles. Very well organised

Dave Haylett My 86th OCR yesterday and a solid 3.5 from me! I'm still buzzing from it. Wide variety of obstacles including some I hadn't done or seen before like the hanging uphill pipe crawl or the rolling monkey bars at the end, very well spaced out along the course so there rarely felt like there was too much running even though I enjoy running, two slides one of which got up some serious speed, dare I say better zip line than Nuclear (!), cracking selection of gym work in the obstacle pit, fab marshals, fun warm up, I could go on. Already can't wait for the next one!

Sarah Davidson Ive only done one established race ( X-runner) the rest local. U venture, airfield anarchy.
I did the family 5km with my daughter sunday.
I have to say, it was the least repetative ocr I've done for obstacles. Wasn't bulked out with excessive hay bail climbs or wall and A frames.
Was a good variety throughout. Well spaced out and nothing felt tedious. The kids struggled with cold a bit. But im not sure rough are responsible for the great british weather.
3.5 from me.
Sorry guys u-venture remain my fav xx

Sam Gascoigne 3 from me, good admin, great Marshalls, good use of terrain and some good ideas for obstacles, may just need to remember not all runners are 6ft and over lol the rope traverse for one lol tougher than I anticipated but a good event

Heather Louise Hardy As a regular on the OCR circuit with team total I would certainly say a 4. Always room to grow. A very challenging course

Catherine Fahey 4 from me. Great obstacles, really good positive atmosphere, loved the warm up and a lot tougher than I thought it would be. It would be great to know if you were a top 10 finisher (even though it's not a race
😜) Thank you I loved it
😀
Editors note
Great scores from our members there
Now I only did the 5K but I also went around the other routes with the race directors
for me the 5k race has to be one, if not the best stand alone short course out there I have done, it didn't skip obstacles it gave it all - zip line - amazing slide and an awesome rig to finish on, the other routes offered more of the basic obstacles, more walls, more crawls, more mud but then they sent you the through the best bit of course "THE PIT"
it exceeded expectations and I have to put Rough events right up there alongside some of my choice of top events like Reaper, Nuclear, Ram run, Mud monsters and Rocket race
Advertisement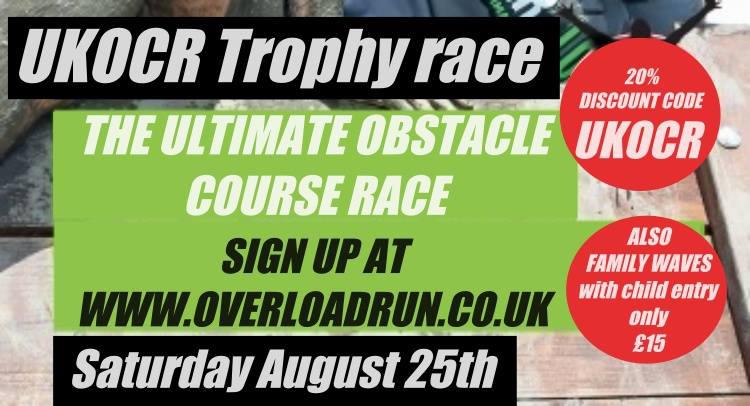 http://WWW.OVERLOADRUN.CO.UK