RUNDERWEAR
When you get to my age things start to drop and the gusset in most shorts are just not enough to stop the swing
Hence so many middle / old aged men go with compression shorts - but personally I am not a huge fan of these
So recently I started to wear the fitted boxer shorts under my normal running shorts and OMG lets talk about chaffing
The first few Km was ok but then they start to dig in and no matter how much tugging and re-arranging I just couldn't stop them digging in and so I popped behind a tree and whipped them off before continuing a run,
Next a tried the more loser but still fitted boxer, well they where as much use a chocolate fireguard in stopping the swing, I had more bruises on the inside of my thighs
So I scoured the Internet for a solution, what do other runners wear and everyone just talked about compression shorts, so for the last 12 months I have persevered with compression shorts
Then in December an ad popped up for Runderwear, a boxer, brief that supports your bits but doesn't chaff - was this the answer, so I parted with my £20 and ordered a pair
I opted for the 6 inch boxer although they do briefs and longer boxes
There is a lot of bumph about them , Chaff free soft seamless fabric, moisture wicking and breathable etc etc. but for me the question is would they work
Taking them from the box I noticed how small they looked thinking how am I going get in those but luckily they double in size if not triple - due to how elasticated they are, then I thought because these stretch so much I'm going to get them digging in me
So with a little trepidation I set out on a run ( yes I did put normal shorts over the top)
2k in and no chaffing, no digging in the thighs and most of all no swinging
5k in and alls we'll
12k down and I arrived home, feeling super comfortable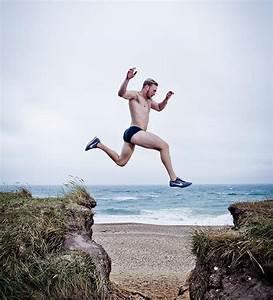 They worked!!!
But how would they work in an OCR, when wet and muddy, muddy, when they move in many different ways
With it being winter and not many available at this time of year I decided to mimic one, 16k, 3 swims of 100m each and a roll in a muddy dirty ditch at the side of the farmers field a few times
And they came through with flying colours, yes they allowed a little mud inside but that soon fell out or was washed out my the water, they didn't hold water and didn't stretch or become saggy
6 runs down and they are still nice and fitted, so I have gone and bought 2 more pair
I can not give them much more of a recommendation than that