I have never had a pair of On cloud running shoes but I have followed the company over the last few years , checking out their road shoes on several occasions but then opting for a different brand for one reason or another,
Then after Overload race in August I had a little personal challenge coming up that needed a pair of multipurpose Trail / road shoe, and along came David at
total sports and supplements
to my rescue
Now for the people out their that don't know David all I am going to say is get to know him, he is a font of knowledge, he has done almost every running discipline and distance there is, his store stocks some of the best shoes there is and he is extremely passionate about giving top quality service
But enough of him – he sent me picture of the ON CLOUD VENTURE PEAK – just seeing the picture had me hooked – these are the sexiest pair of trainers I have every seen, simple black and white check them out
here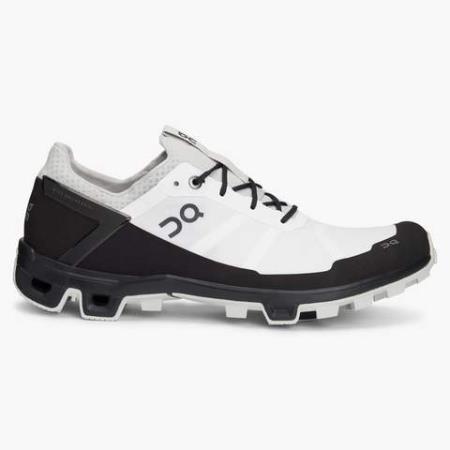 I posted this Picture on our facebook page and I along with others did have a few reservations – "how long would they stay white?", "would the holes in the soles get stones in them?" , "would the grip be enough for trails"
anyway I ordered a pair and 2 days later they arrived in the post and they looked even more beautiful in the flesh – so much so that I had to wear them around the house for the rest of the day ( actually it was 2 days and I did sleep in them too)
For you technical runners here's a few specs about them from On Cloud
Weight Size 9 - 260gm
Drop 4mm
Mission Grip Technology
Ultralight Ripstop upper
On Cloud recommend for racers looking for a mixed terrain shoe with neutral stability and direct cushioning
But back to what I though
Taking them out of the box the first thing you notice is the weight, or should I say the lack of it, Now I have several light weight running shoes but im sure these would float if I let them go, the upper is made of ripstop, a super light and thin material, the whole upper is one piece too so no nagging tongues to dig into you, The grip looks ok, but only getting out on the trails will tell.
Sliding them onto my feet the comfort is amazing, its like putting on your favourite slippers, they slide on easily and just hold your foot like a koala bear having a cuddle, the heel is gently caressed, the mid foot is like being cradled in your mothers arms and the toe box has just the right amount of room to move but not enough to be slopping around
My first run in them I decided to give them a good proper terrain test, taking them up and down muddy hills, along stoney trails, over a ploughed field and I even threw in a little tarmac at the end. Having never run in On Clouds before I didn't know what to expect so I was well pleased with the feel, im not sure it feels like I am running on clouds but it is close
The impact of sole to ground feels like you are cushioned by a bed of feather and duckdown, but then you get the rebound effect like there are mini rabbits in the sole just hopping to ge out. And my pre conseptions where proved wrong, it handled the terrain well, and I got no stones in the holes of the soles either - Job was a gud en as we say in yorkshire
I have now done 10 training runs, 4 parkruns and 2 OCRS in them covering just 150km in them
This trail shoe is truly a work of art
They offer perfect grip on the hard trails and on tarmac, they perform really well in the wet too, I have ran up Howden moor over wet rocky ground and they performed brilliantly, but this is where they reach their limits, give them a sight of mud and the sole is not aggressive enough to deal with, deep peat and your fine but the surface stuff that's about ½ an inch think and its like Bambi on ice
I have touched on the cushioning of these and have to say with the exception of an old skool pair of Hi-tech silver shadow straight out of the box( if you are old enough to have used a pair you will know what I mean) there has never been anything to beat it
I tested the cushioning by putting little stones in the holes too and I have to say that they still performed – yes I could feel a slight difference but I had to really jam the rock in to get it to stay in, so unless you go running in woods and stop for a quick jimmy and there happens to be some mischeviouse squirrels about that like putting stones in shoes, I think you will be safe from getting any little stones in those holes
Support wise they are really good the upper is soft and thin yet flexible, it cuddles the middle of the foot and gently pushes it back into the heel cup, meaning that when you react to un even terrain the shoe instantly reacts also, I ran 10km without socks too ( as I like to run without socks - it gives me an enormous feeling of wellbeing or is that a line from a park run song) and I have to say they where great, no heat spots, no rubbing just pure comfort from start to finish, except when I jumped in the stream at the top of kinder scout and it was super cold – now that was uncomfortable
Whilst I mention juming in streams these drain well, and the uppers don't hold water either
Now to the downside – the colour – after running through peat bogs, streams, deep mud and lots of dusty trails they are no longer white!!! They are more an off white now, they do come up well every time I go in a nice fresh stream / river but then they just get dirty again
My overall thoughts are that I really like them to run in, and will continue to use a lot on the trail runs, they may be useful for some of the drier OCRs and would be ideal for the spartan stadium events or city centre OCR's that seem to be up and coming
As for the type of runner they are best suited for I think they would suite almost everyone, the lightness and responsiveness of them would suite the racers out their whilst the Cushioning and support are great for just plodding out those miles – my only recommendation is that they would not suite some one with really wide feet, I am just a little on the wide side and they are ok but if you have dinner plate feet they steer away from them.